For the prettiest version of you
Bornholm Hair and Make-Up
Decisions Decisions Decisions
When you first start to think about the wedding planning, the make-up and hair artist will probably be on the bottom of the wedding checklist. You might even consider to do it yourself for how difficult can it be? You've probably done your own make-up hundreds of times before, and getting the hair right can always be dealt with on short notice. 
And then invariably certain questions arise. Should the bride wear her hair up – or down? Veil or floral wreath? What lipstick colour will match the bouquet? And how will those sparkling eyes best be framed for the wedding portrait? Also the groom might have to ponder over a few issues. Maybe this is the right time to get rid of that beard? Or even grow one? 
Friends and family will obviously be more than pleased to lend a hand on these all-important questions. Yet their point of view will often only add to the confusion. A professional hair and make-up artist on your wedding day will be the best solution to quiet all your apprehensions.
Here are a few additional points you should consider when deciding upon your wedding hair and makeup.
Time is of the Essence on Your Wedding Day
Until you actually wake up on the morning of your wedding day, you really don't know how exciting the event is really going to be. You might be flustered or nervous. 
Soon you realise, that this might not be the best moment to hold a pointy utensil to your eyes to get the eyeliner right. With any bad luck, you even might have a bad hair day and nothing you've imagined will work out the way it should.
Make-up artists and hair stylists will not only deal with the technical side of your wedding look, but also be able to calm you down. They have dealt with minor or even major disasters, including bad hair days, before and know exactly how to handle yours. 
Our make-up artists and hair stylists work fast and will save you valuable time – and spare your nerves – on your wedding day. For more information on how to book your personal hair and make-up specialist on Bornholm, please contact us on the form below.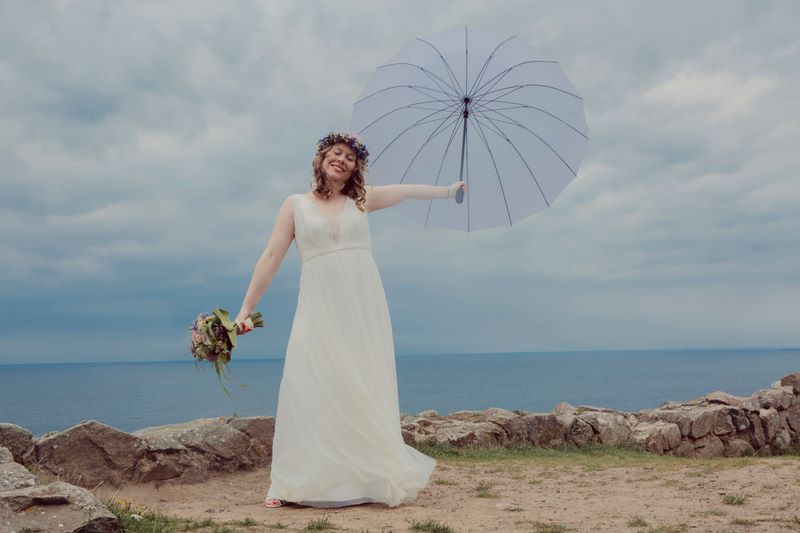 DIY Might Look Good to Begin With...
But what about 2 hours down the line? Whether it's the hair or the make-up, both will have a fair share of turbulence on your big day. There will obviously be a lot of kissing, hugging, crying, moving around, dancing etc.
Also the weather should not be underestimated. That is especially the case, if you should decide to marry in Bornholm's nature. Rain is usually not on the cards, but there might be a breeze. Will your home-made make-up and pre-fab hair style really stay the course?
Our local Bornholmian hair dressers and make up artists know what it takes to keep your hair and make up in check. By using a professional hair and make-up artist local to Bornholm, you can be sure to look great from the moment you walk down the proverbial aisle right through to the post-wedding events that very same night.
The Luxury of Having Freedom of Choice
You might be marrying your one and only, but are you aware of that you are not confined to one singular hair- and make-up style? We all have a tendency to stick to what we know and usually do. 
This might be good enough for a day at work or an evening out, but will it really be sufficient on one of the most important days of your life?
Wedding make-up artists and hair stylists come with a new perspective on your head. They'll provide you with examples of hair and make-up styles that will work and make suggestions for alternatives. And all will remain strictly within your comfort zone. 
Our resident hair and make-up artists also will be listening to your own suggestions and show you examples of what will work – and what rather not.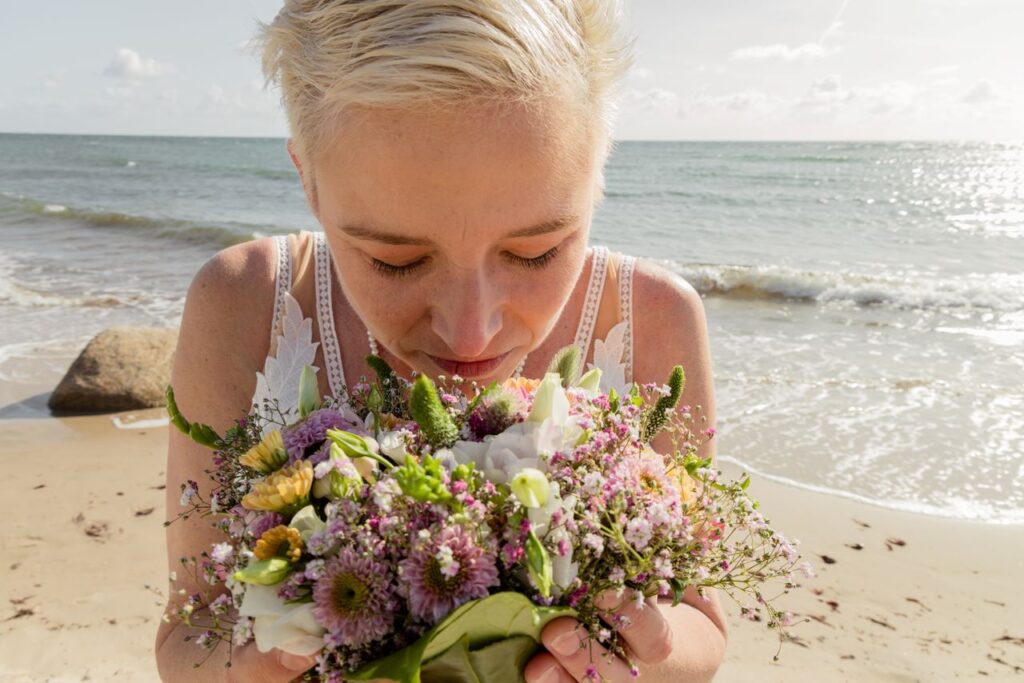 Make-up Artists Show All the Best Sides of You
Getting your make-up done to look great in the mirror or in front of the registrar as well as your future husband and the wedding congregation is one thing. Looking great on the all-important wedding photograph is something entirely different. 
Remember that this is quite probably the day you will be most photographed in your entire life. Our professional hair stylists and make up artists know what photographs well.  Besides, you are on Bornholm and it is more than likely that the stylist and your wedding photographer have been working together before. 
They know how to bring out your best features and make you look great from all angles so you can have the confidence to step in front of the camera, knowing you will look fabulous for decades to come.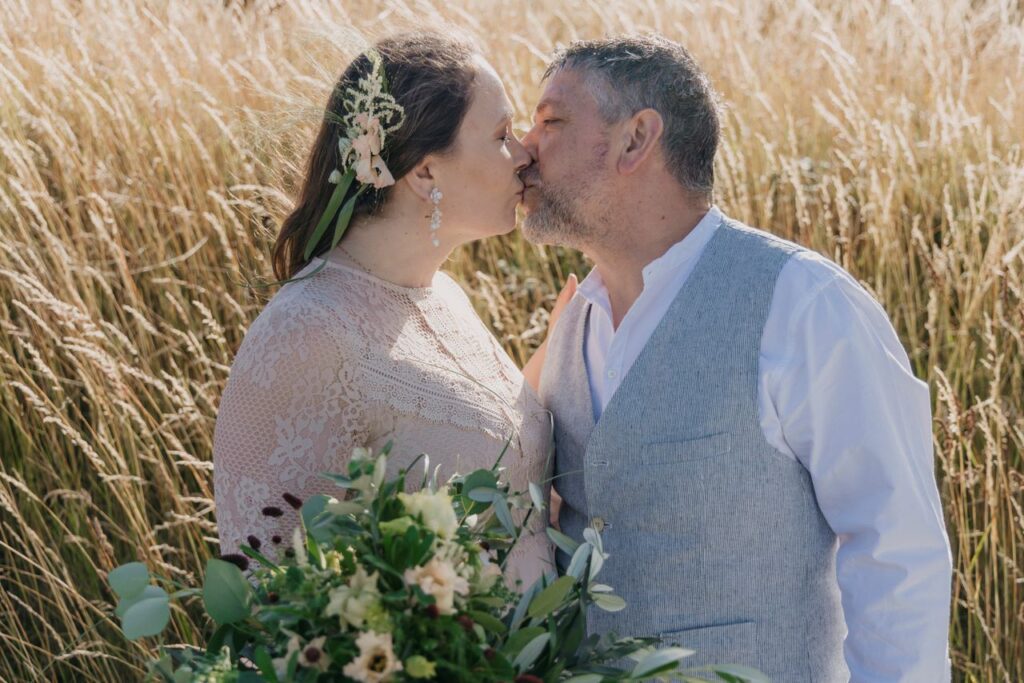 They Incorporate What is Important to You
You might have a special piece of jewellery with a strong connection to your loved one or a wedding dress that has been an heirloom for generations. Obviously you will want to enhance the importance of these special pieces, but probably don't know how.
A professional hair and make-up artist, and we in Wedding on the Rocks only know professional ones, will not only comprehend the significance of the objects, but also use their expertise on how to present all the little details you might bring into one whole – and beautiful – design.
Please contact one of our wedding planners to arrange for a complementary, yet informative chat about any questions you might have with regards to your personal hair and make-up stylist.
Book a free online meeting with a wedding planner on Bornholm to have all your questions on hair and beauty at your wedding answered.