All you need before the Big Day!
THE SECRET OF A GREAT WEDDING DAY IS BEING PREPARED
Right now, you might think the worst is over. You've met each other, you fell in love and now she carries an engagement ring on her finger. What more is there possibly to arrange, apart from appearing in front of a registrar, saying your 'I dos'?
There is, of course, quite a bit more you have to take into consideration before you can start on the official path of your life together. Think about all the paperwork required, the budget, choice of possible wedding locations and the all important wedding guest list.
If you should decide to marry on Bornholm – and we really think you should – nobody else but the wedding planners of Wedding on the Rocks will be more qualified to take the most boring, yet still essential, work load of your shoulders. Here is our 'Wedding Checklist' and while crossing off item after item, you soon will realize how much Wedding on the Rocks really can do for you.
No matter where you want to marry, the date for your wedding is not only dependent on your own wishes, but also on the availability of the registry office in Rønne. If you should decide to have a wedding ceremony anywhere on Bornholm, whether it is in the registry office, out in our amazing Danish nature or at the romantic Erichsens Gård, our wedding planners in Wedding on the Rocks will do our outmost to secure the right date for you.
Please note that the earlier we know about your wedding plans, the more likely it will be to reserve your perfect wedding date and get this item off the checklist.
2. Determine Your Wedding Budget
Whether you want to marry in front of a crowd of hundreds or entirely without guests, our wedding planners will be able to work within your set budget and assist you with getting the best deals on and around beautiful Bornholm. No budget is too small – or too big. 
Please also note that we operate with all-inclusive prices anyway. Nevertheless, we can also be of assistance beyond that. From wedding photographer to reception venue and bridal bouquet florist to caterer, we know them all and can arrange the best deals within your wedding budget.
3. Set Up Your Wedding Guestlist
Here is a wedding checklist within a wedding checklist. You have several options for creating a guest list for the wedding. You can do it the old-fashioned way with pen and paper before sending the beautifully decorated invitations by snail mail.
Others prefer online tools with the ability to not only send the invitations automatically but also provide the digital opportunities to respond to the invitations. 
Of course, the number of guests you invite depends on your budget. Our wedding planners can help you determine the right amount and guide you with regards to which tools to use. And now you can tick off another item on your wedding checklist.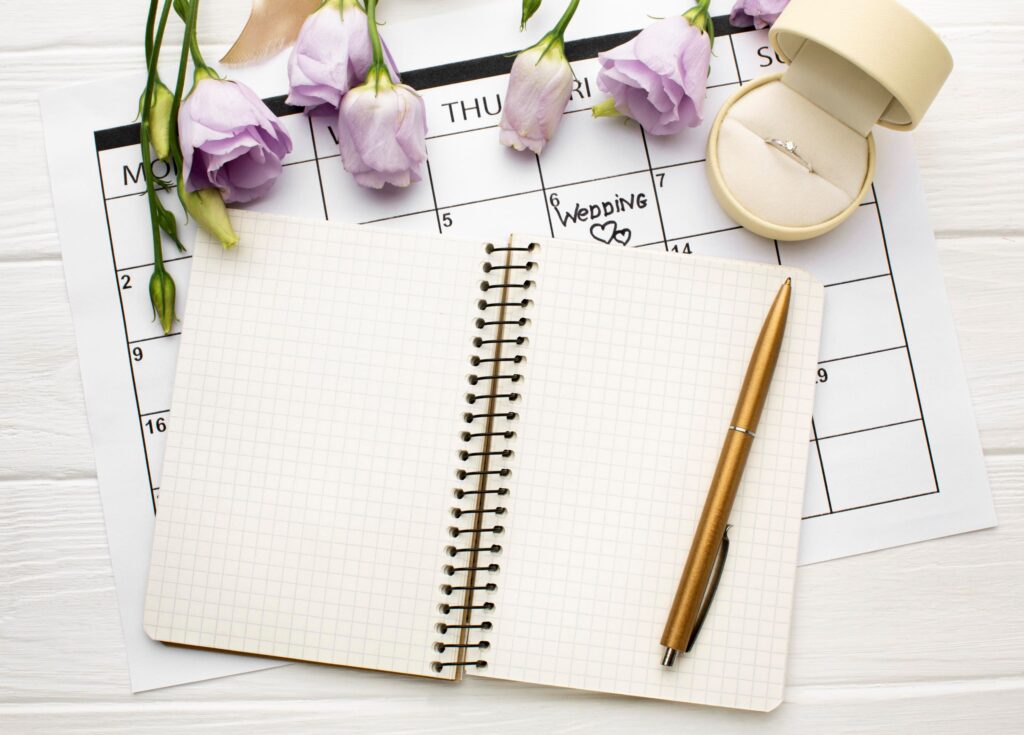 4. Figure Out a Theme for Your Wedding

The motif of a wedding is a much under-valued topic on the wedding checklist – especially if you have chosen to hold the celebration in front of a small circle of wedding guests. However, choosing a wedding theme can be a tribute to your personal history as a couple and set the vibe for the celebration. You can use a motif to reflect your shared interests or passions, or to promote a particular atmosphere.
Wedding on the Rocks works with some true specialists in the field of wedding decoration. Take our florists from H(e)aven Bornholm, for example, who are looking forward to your wishes. 
Let your imagination run wild – but don't forget to tell our wedding planners about your plans. Wedding on the Rocks will make sure you'll achieve the right atmosphere of it so that you are satisfied.
5. Name Your Bridesmaid(s) / Best Man
In most cases, the choice of first bridesmaid or best man is clear from the start. It will be someone your cherish and trust – usually a very close relative or a best friend. 
At larger wedding celebrations, bridesmaids and best men also have some important practical tasks to perform. They will take some of the work off your hands, organise the other guests and if you are otherwise occupied, answer questions about your wedding. After the ceremony, they will also sign the wedding register.
However, should you decide to keep your wedding party to an absolute minimum – as in just the two of you – Wedding on the Rocks will be happy to provide you with two witnesses who can step in to meet the requirements of Danish law. 
Hereafter you can tick off this item on the wedding checklist as well.
6. Pick the Vendors for Your Big Day
Here is a challenge where Wedding on the Rocks really can rise and shine. so you can cross vendors off your checklist. All you need to do is tell our wedding planners your budget and wishes – and we'll get straight to work finding the right choice to suit your situation.
From local florists to wedding photographers and venues to beauticians/hairstylists, we know them all here on Bornholm and can find just the right provider to ensure you have a perfect experience on your big day.
All you need to do is to tell us your requirements, and our wedding planners will set to work their magic.
7. Find That Perfect Wedding Dress / Wedding Suit
Once upon a time, there was no question that the bride  would wear white on her wedding day. Nowadays, everything goes and you can do exactly what you want. Romantic, classic, whimsical – you might even come up with a family heirloom that has been passed down through generations. Our wedding planners at Wedding on the Rocks can't wait to see what you've chosen (and we swear we won't tell the groom!).
Just tell us what you want in terms of hair, beauty and decorations – and we will find the right wedding hairdresser and make-up artist to suit your individual needs. By the way, we are also happy to play the middle man/woman if the groom is to choose the bridal bouquet – but of course is not allowed to see the wedding dress.
8. Collect Your Paperwork

That's really all you need to do: We solemnly promise by our Wedding planners' honour. Compile the documents, photograph them and forward the digital copies to our wedding planners here. We'll take care of the rest. 
Whether you're looking at eloping together or prepare for the wedding of the century, we'll take the paperwork off your hands and get it done – in many cases in as little as 10 days. We also make sure your marriage is recognised everywhere by getting the necessary stamps.
All you have to do is tick off this item on the wedding checklist – and show up here on Bornholm at the right time.
9. Book Your Travel and Accommodation

In Denmark – as well as in the rest of the world – Bornholm is known as 'The Sunshine Island' and therefore a popular tourist destination. Accordingly, the island offers a variety of hotels, holiday flats and guesthouses to suit every wedding budget. But don't worry – we can still find a secluded spot away from the tourist crowds.
And most importantly, you can arrive here in no time at all. Bornholm can be reached from most European countries in just a few hours. 
Contact our wedding planners for more details or just let us know your wishes and we will help you with everything else.
10. Plan Your Hen Party / Stag Do

The Danes know how to throw a party, and the traditional hen or stag party, called "Polterabend" in Denmark, is no exception. 
Whether you want to give your wedding guests a first-hand experience of the Danish tradition of "hygge" or offer something quite out of the ordinary – such as an adventure trail around the island or a day on one of our beautiful sandy beaches – Bornholm can provide it. 
Just contact one of our experienced wedding planners for more information and we will set the wheels in motion to provide your guests with a once in a lifetime experience. 
11. Send Out Your Wedding Invitations
The big day really is getting closer now. By the time you reach this point on your wedding checklist, you have probably already received confirmation of your wedding day date from one of our wedding planners. This also means that your documents have been checked and it's time to inform the guests.
You can send your invitations the traditional snail mail way – or simply set up a wedding website from which you can send emails to your family and friends. This way you also have the option to automate the feedback. 
Whatever you decide, don't forget to add the childless great-aunt or the distant cousin with the holiday home in the Maldives to the list.
12. Break In Your Wedding Clothes
It may sound ridiculous, but nothing can ruin the big day more effectively than a pair of blisters on your feet or a corset that cuts off your air supply (not to mention leaving no room for your carefully arranged wedding buffet). 
The perfect fit of your clothes is essential. Otherwise, sore feet or shortness of breath can make it difficult to look lovingly into the eyes of your new spouse as you say 'I do', .
Before you pack and leave for Bornholm, you should take a few rounds around the house in your wedding clothes. This is the only way to make sure that everything fits exactly as it should. 
Unfortunately, this is one of the few items on the wedding checklist that our wedding planners cannot help you with – except, of course, to remind you of its importance.
This brings us to the last item on your wedding checklist. We can't wait to welcome you. It is such an honour that you have chosen us to help you plan for your big day, and a privilege to contribute to this important milestone in your life. 
That's why our wedding planners will do their best to make it a truly great event that everyone will remember for years to come.
When you arrive on Bornholm, all the preparations have already been made. The registrar is booked in the desired language and the stage in nature or at Erichsens Gård is set up. All you and your guests need to do now is enjoy our beautiful island and all it has to offer. Wedding on the Rocks will take care of the rest.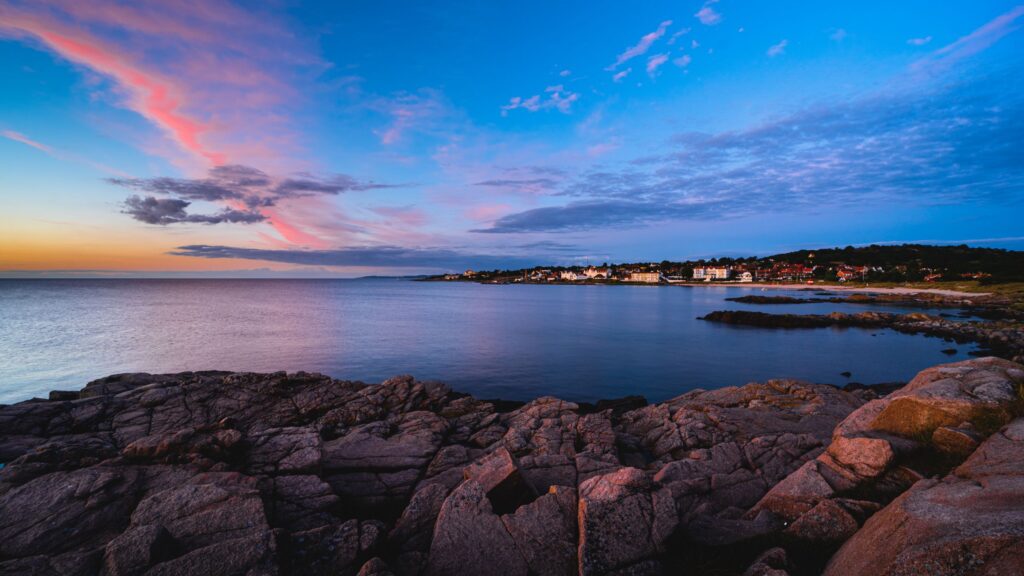 Book a free online meeting with one of our experienced wedding planners and get your wedding checklist sorted!