My name is Siine Bergmann and I live with my husband and little daughter in Copenhagen. My husband and I have always been traveling a lot and we enjoy meeting new people and cultures. Something, which have always fascinated me on my travels, is the importance of a wedding – no matter where you go in the world a wedding is a great and important milestone in most people's lives. It definitely was in mine, because as most small girls, I also grew up with the dream of marrying Mr. Right.
I grew up on Bornholm and have always loved the unique and beautiful nature there. There was no doubt in my mind - I wanted to get married under the open sky. Though I must admit, I was a bit nervous when I found out, that it was only possible on certain days at specific locations in Copenhagen. Not surprisingly, the wait list was super long – not very romantic…
I decided to look into the options at Bornholm, and it was completely different! Here everything was possible. We just had to pick a location and they would send one of their nice and competent marriage officers. We chose an old holiday camp, so both our families and friends could stay for the whole weekend. I was off course responsible for the planning of my own wedding, but it did take me a bit by surprise, how much work and energy I had to put in! The week leading up to the wedding was packed with everything from making place cards, arranging flowers, baking the cake, folding napkins and so on. We only had the day before the wedding to decorate the location and set up everything – we finished around 11pm.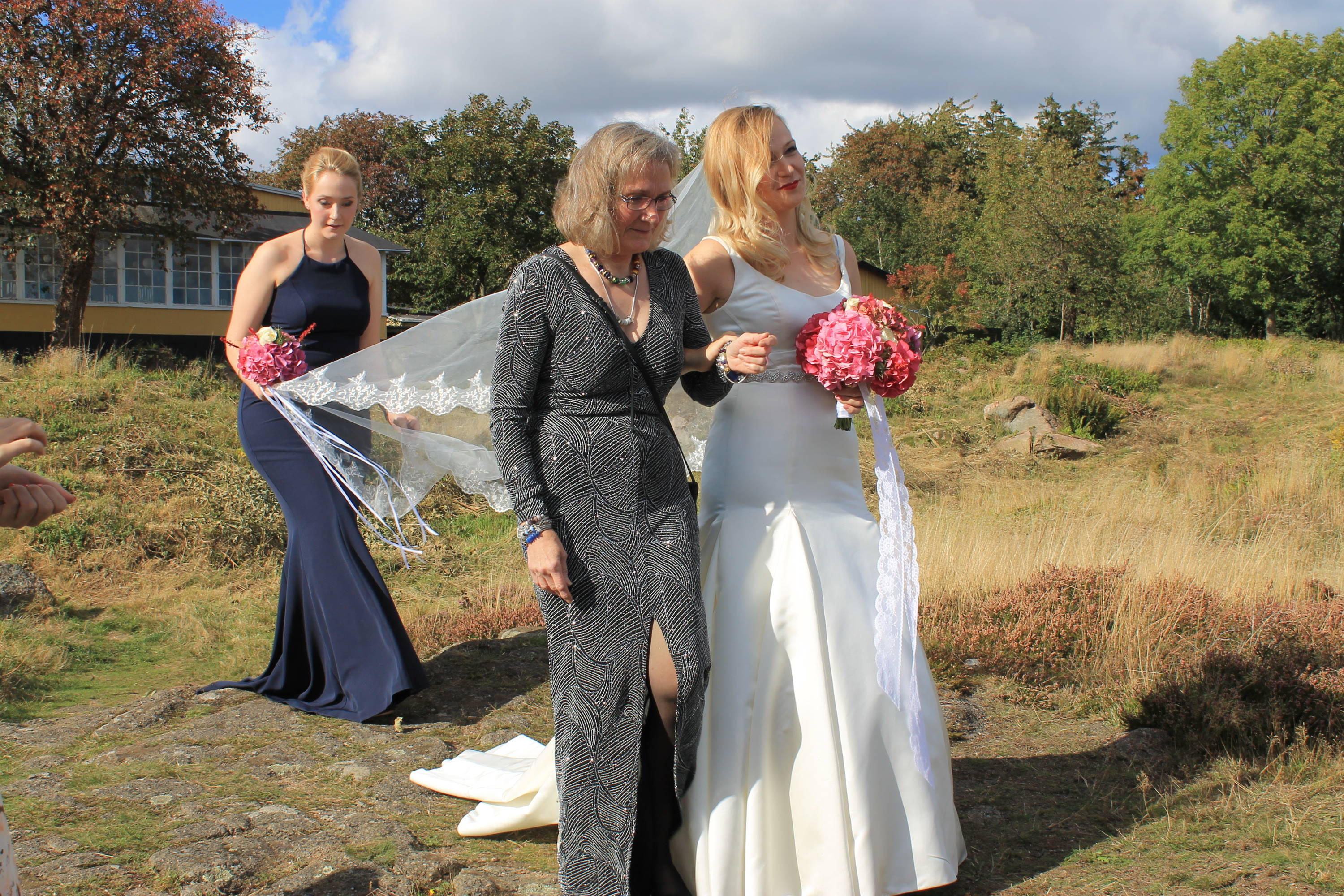 Finally, the big day was here! I got my hair and makeup done while being pampered by my bridesmaids. When I got my wedding dress on and the bucket in my hands, I felt like a princess, and I couldn't wait a second longer to marry my soon-to-be amazing husband. I followed tradition by being fashionable late – and now I know why that term was invented. When I got out of the car, time stood still. The music was playing, the sun was shining and I could smell and hear the nearby ocean. The scene for my wedding was breathtaking and the civil ceremony was short and sweet, which was perfect since I couldn't wait any longer. It was so romantic and beautiful on the cliffs.
After the ceremony, we drank some delicious bubbles and ate the wedding cake. I was so lovely seeing our families becoming one. The food we served our guests had to be best and was a very high priority for us. Therefore every dish had a local touch of Bornholm, which is well-known for it's many delicacies. It was an unforgettable night with great food and wine, speeches, songs and lots of love. The evening ended with crazy music and a packed dance floor. The next day, we all ate brunch together and helped clean up, and I felt so happy and surrounded by love.
When I look back at my wedding, I'm filled with wonderful memories, which I'll always carry with me. But if I should have done something different that day, I would have asked for more help – professional help – so I could have enjoyed all the anticipation as well the wedding. It would have made my wedding so much less stressful to have someone there taking care of everything. Then I could just have showed up to a decorated room without thinking on all the clean up afterwards. There was many gritty nitty details I had to take care of during the party, when all I wanted was to enjoy my new husband. "Where do you want the snacks?", "When do you want the dishes served?", "When do you want the bar to open?" and etc.. If I had had a person responsible for all this, I could have enjoyed the role as a bride 100%.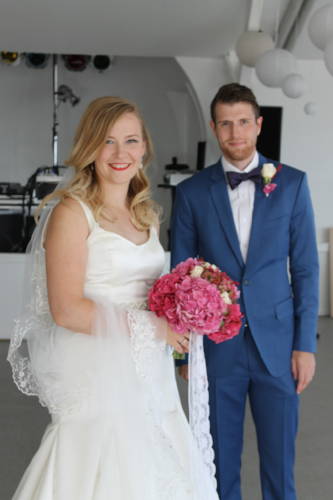 It's been a couple of years since my own wedding, and I have had the dream of becoming a wedding planner for even longer. After the experience at my own wedding, I now know how much it would help the bride and groom, to have a wedding planner. Besides that, I learned how lucky we were with the legal aspect of our wedding. Bornholm was so accommodating and professional, I haven't heard of other councils working that efficient.
I believe that love has no limits, and that's why I started Wedding on the Rocks. To help couples, especially international couples, to get married without any hassle and stress, so they can lean back and enjoy their special day.